Gallery Pouloeuff invites promising young artists, photographers and designers to present their work in a lovely exhibition space. Right in the heart of the picturesque, fortified town of Naarden-Vesting, they are offered a white wall on which they can showcase their work to art lovers, curators, and the rest of the world. This will hopefully be the beginning of a wonderful career.
Our goal
Our primary goal is to seek and support the next generation of artists by arranging exhibitions, events and other promotional activities. Over the last years we have seen emerging artists become quite successful, most of them now exhibiting at other renowned galleries, art fairs, and art institutions.
Partners
Gallery Pouloeuff proudly collaborates with several partners. In this way, the young artists connected to Pouloeuff are able to enlarge their experience and audience, by exhibiting their works on various platforms.
Our partners are:
• Museum Ijsselstein, where our biannual exhibition 'Best of Pouloeuff' is housed and organised. Former Pouloeuff exhibitors were selected to show their work in a museum setting.
• During the Photo Festival Naarden (biannual), Gallery Pouloeuff is part of Festival-OFF. Visitors are able to visit the exhibition specially set up during the festival period.
• Since 2018, the project 'Window of Opportunity' is presented in Singer Laren.
Would you like to exhibit your work?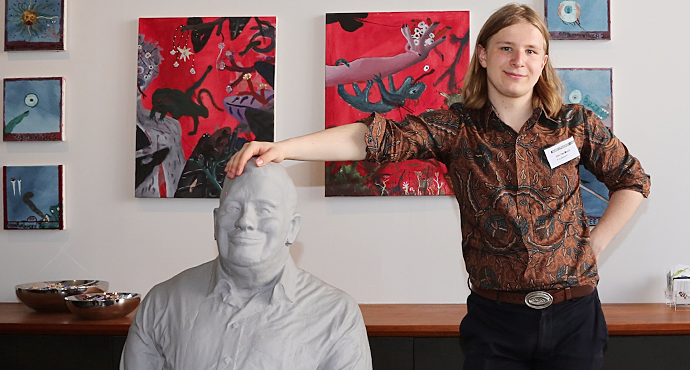 The gallery has championed new and interesting visual artists, irrespective of background and discipline. Artists exhibit their work for free and when an artist sells a work they don't have to pay a commission fee. Artists are only responsible for transporting their work to the gallery.
Unfortunately not everyone can exhibit their work at Gallery Pouloeuff, not only because the gallery offers limited exhibition space, but also because the gallery is geared toward young, talented graduates (or soon-to-be graduates) of renowned art schools in the Netherlands. These students could benefit from a stepping-stone to launch an independent and successful career in the creative industries.
Occasionally Gallery Pouloeuff offers space to a more established artist. Should you be interested in finding out more, please contact us.
Promotional activities, events & more
Promotional activities
To make Pouloeuff artists stand out and be noticed, the gallery's promotional activities include sending out press releases, contacting local media, introducing artists to a network of established art galleries and curators, and promotional activities on several social media platforms. An online newsletter is sent out regularly to keep people up-to-date on news, interesting facts, interviews and background information concerning artists and exhibitions.
Furthermore, there is the 'Pouloeuff Public Award'. During every exhibition people can vote online for their favourite work of art. The artist that receives the most votes, wins and recieves a substantial financial encouragement to launch his or her artistic career.
Events
Every new exhibition starts with a festive opening with drinks and bites; press, family and friends can have first view of the works. Occasionally Gallery Pouloeuff organises lectures for those interested in the arts.
Gallery Pouloeuff is an initiative of the Keep an Eye Foundation. The foundation literally keeps an eye on promising young talents. These talented musicians, designers, filmmakers receive several grants, prices and stages to help develop their talents, create new opportunities and realize their creative goals. Read more about the foundation:
---
ADDRESS
Turfpoortstraat 36a
1411 EG Naarden-Vesting
Phone number: 035-6940406
Opening hours
Fridays and Saturdays between 11.00 - 17.00
Sundays between 12.00 - 17.00