Gallery Pouloeuff offers the opportunity to young promising artists to present their work in a professional exhibition space. Right in the heart of the picturesque fortified town of Naarden, we organize five exhibitions per year featuring works of a variety of disciplines.
Our goal
Our primary goal is to seek and support the next generation of artists by giving them a platform and a steppingstone for the start of their career. With the aim to contribute to the cultural enrichment of the world around us, Gallery Pouloeuff was founded in 2010. In our more than 10 years of existence since, we have seen many amazing things happen here. In our beautiful building right in the center of historical Naarden, the newest remarkable art is for show. Here, we give young up-and-coming talents the opportunity to exhibit their work in a professional setting. This is done without a commercial goal, and we do not request a sales fee from our exhibitors. Furthermore, our curator Ine van der Horn is involved in guiding the young artists through the whole process. This way, Gallery Pouloeuff gives the creators a platform as well as a helpful push to start a fruitful career. We have seen our artists go on to achieve success, with many now exhibiting at other renowned galleries, art fairs, and institutions.
What we do
Throughout the year, we organize about five exhibitions in which we bring together young artists whose works have connecting themes or techniques. These exhibitions are brought to the attention of a broad network of experts, art lovers, and other interested parties.
Gallery Pouloeuff is not just a regular gallery. Next to organizing these exhibitions, we offer artists the opportunity to take part in one of our projects. For instance, our project Spacemakers is a challenging residential masterclass within the walls of the gallery.
Artists who take part in our exhibitions get the opportunity to remain in the eye of our visitors by selling a small work through our ART IS: SHOP! Our gallery does not require a sale fee. The shop can be visited both physically in the gallery or online.
If you want more in-depth information on these subjects, please explore our Dutch-language website. For further questions, feel free to contact us.
Would you like to exhibit your work?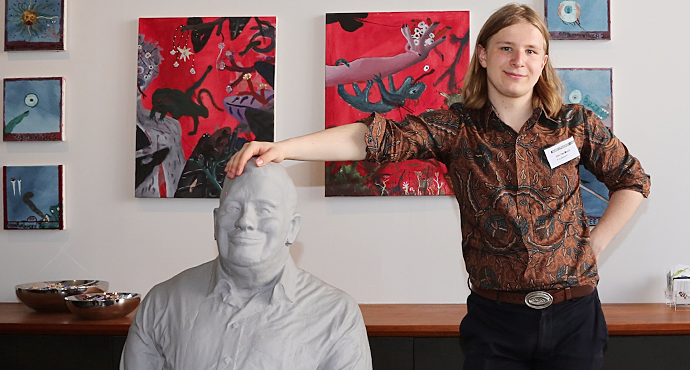 Gallery Pouloeuff has championed new and interesting visual artists, irrespective of background or discipline. Artists exhibit their work for free and do not have to pay a sales fee. They are only responsible for transporting their works to the gallery.
Unfortunately, not everyone can exhibit their work at our gallery. We have a limited exhibition space and are specifically geared toward young and promising graduates (or soon-to-be graduates) of art schools in the Netherlands, as these artists could benefit from such a steppingstone. If you think you might be a good fit and are interested in exhibiting with us, please contact us.
Keep an Eye Foundation
Gallery Pouloeuff is an initiative of the Keep an Eye Foundation, the non-profit foundation that helps young, talented artists studying in and outside of the Netherlands with realizing their dreams. At this moment, Keep an Eye supports more than twenty projects in a variety of disciplines, such as visual arts, fashion, and music. To learn more about the foundation, you can visit their website.
Adress
Turfpoortstraat 36a
1411 EG Naarden-Vesting
Phone number: 035-6780647
Email adress: mail.ons@galeriepouloeuff.nl
Opening hours
Fridays and Saturdays between 11.00 - 17.00
Sundays between 12.00 - 17.00